Nothing is making me more upset right now than the oil spill in the Gulf. Something this catastrophic could have easily been prevented, and so many lives have been affected by its wake. The spill is affecting everything from the wildlife to our beaches; it is time we do something. And there is something you can do to help without going all the way down to the clean-up site: you can simply customize a Kenneth Cole tee-shirt.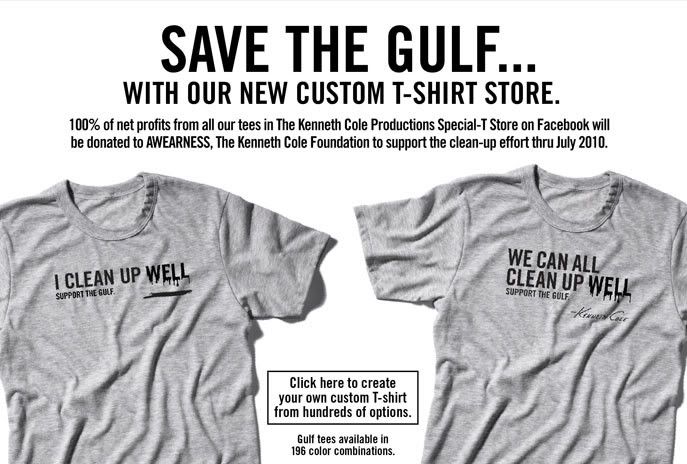 The best thing about the new Kenneth Cole tee-shirt company is that 100% of the profits made will be donated to AWEARNESS, The Kenneth Cole Foundation, which is committed to supporting the Gulf efforts. The mens and womens tee-shirts are retailing at $35, and are available in 14 different colors. You can choose from 12 different slogans and various graphic variations including the popular favorites "We Can All Clean Up Well" and "I Clean Up Well". Isn't that adorable? So, you can look great while supporting an amazing cause. In my opinion, you can't get any better than that.

You can order your tee-shirt here or by clicking the picture above. Want a free tee-shirt? Follow on the Kenneth Cole Twitter page for the opportunity to win. 20 free tee-shirts are given away a day!

Supporting the Gulf clean-up process is one of the best causes (and one I am most strongly opinionated about!) I've seen lately. What is even more amazing is the simple part you can play in building awareness by creating your own fashionable tee-shirt. Spread the word ... together, we can all clean up well.